Electronic & Keyless Entry Door Locks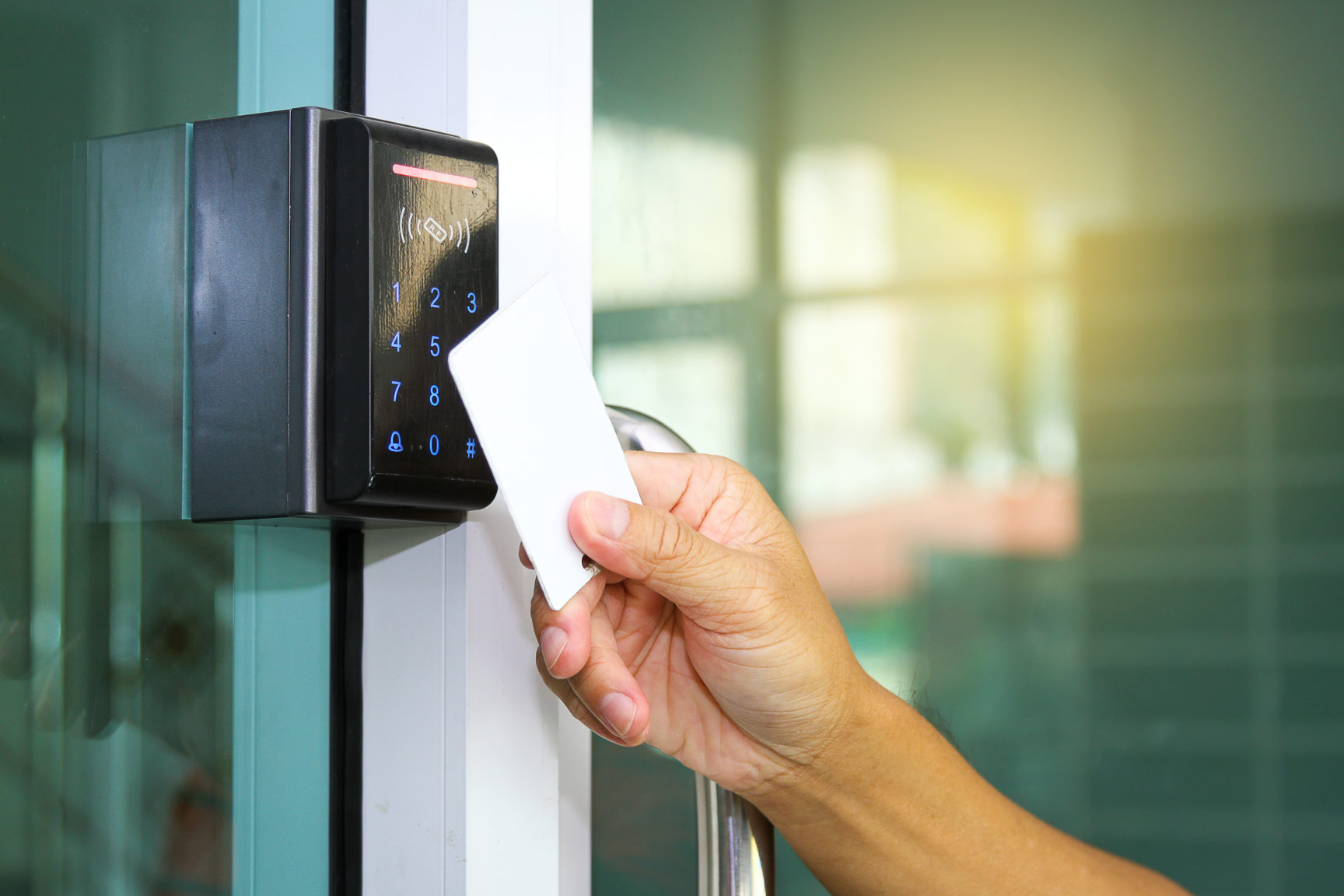 There are many forms of keyless entry, and depending on your business needs each option offers different benefits.
Electronic & keyless entry usually requires access through the use of a code. This code can be manually inputted, as is the case with a keypad, collected from the user via card or key fob, or biometrically with fingerprint and/or retinal scan. This electronic data is then verified against the networks list access permissions and will stay locked or unlock based on the verification.
The benefits in choosing an electronic access system include:
No worry about human error lost keys or having to rekey the entire business.

Eliminated costs of changing locks and copying keys

You can easily add or delete users; change or delete permissions: can be set up to limit the number of employees that can access a particular area, or restrict access to only authorized personnel.

Deter employee theft, keep track of when and where employees enter and leave the building.

Easier tracking of employee hours worked for payroll.

Greater security inside the building for all employees during working hours and well as any night workers or cleaning crews you employ who work outside of regular business hours
Compared to physical access control systems, keyless entry systems provide greater security features such as:
Anti-tamper lockout to restrict access after a certain number of failed attempts to access restricted areas.

Quick lockout option in case of a security concern.

The ability to delete user codes with a master code

Multiple ways to access more restricted areas with 2 person rule or card swipe and code entry.

Enhanced protection for sensitive and confidential documents and equipment

Can be used for parking lot or garage entry with anit passback to make sure the card was used to enter and exit before being abled to enter again.

Can be used for fuel stations to authenticate users.

Print your own custom cards with employee picture for a second means of identification.

Can create cards with very specific schedules for anyone employees contractors visitors or internships or volunteers. Including use it or loose it after a certain amount of days.

Can often be integrated with video systems to take snap shots or start video of someone entering or exiting a door.
Installation of a keyless entry systems are comparable to that of a physical access control system. The most common types of installs are uses of numeric keypad or biometric / fingerprint reader. Depending on the wiring complexities most installations of 1-5 doors takes between 1-2 days to fully setup.
At Merz, we understand your needs may vary depending on the type and size of your organization; our Technology Professionals will work with you directly on your security objectives. They will focus on your needs to safeguard personnel, information, equipment, IT infrastructure, facilities and all other company assets. From there, we work hand in hand with our crews to ensure your system is installed and functioning correctly from the start.
Keyless Entry Frequently Asked Questions: